Price and inventory may vary from online to in store.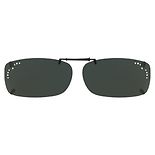 Solar Shield PolarTX ClipOns Lens Frameless 56 RecA (1 ea.)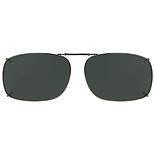 Solar Shield PolarTX Metal ClipOns Lens Full Frame 56 Rec 1 (1 ea.)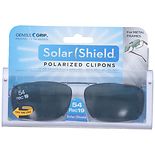 Solar Shield PolarTX Metal ClipOns Lens Full Frame 54 Rec 19 (1 ea.)
Clip-on lenses
Clip-on lenses allow you to protect your eyes from the sunlight while wearing a pair of prescription glasses, which can eliminate the need for prescription sunglasses. The lenses are available in several sizes and styles, making it easy to find a pair that match your needs and current frames.
Clip-on sunglasses
Like an ordinary pair of sunglasses, clip-on lenses can block both UVA and UVB rays. For maximum protection against glare while using your prescription glasses, opt for a pair of polarized lenses. Reducing glare is especially helpful for driving, as well as for other activities that require your full attention.
Lens styles
Some lenses are built for plastic frames, whereas others are constructed for metal frames. Selecting the right type for your glasses helps you ensure a proper fit. Available in rectangular and oval shapes, clip-on lenses look like ordinary glasses and can fit over the top of your current lenses perfectly. Available lens shades include gray, brown and black. Beyond colors, you can select flip-up lenses if you frequently move between sunny and shady settings or read printed documents. Whatever you choose, you can protect them with hard eyeglasses cases to keep rims straight and prevent bending.