Price and inventory may vary from online to in store.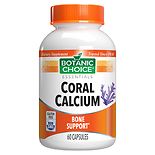 Botanic Choice Coral Calcium Dietary Supplement Capsules (60 ea.)
$1329
$13 and 29 cents
$0.22

/ ea
Nature's Way Coral Calcium with 73 Trace Minerals, VCaps (90 ea)
$1799
$17 and 99 cents
$0.20

/ ea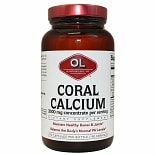 Olympian Labs Coral Calcium (270 capsules)
Sale price is $32 and 36 cents

And Regular price is $53 and 99 cents
Coral Calcium
Feel your best and get the nutrients necessary to help maintain bone strength with coral calcium. Coral calcium dietary supplement capsules include vitamin D, calcium and magnesium, which are vital ingredients for healthy bones. If you have trouble swallowing pills, Drinkables Drinkables coral calcium dietary supplement liquid offers an alternative that's easy on your stomach. It has an agreeable taste and is absorbed rapidly by your body.
The science of healthy bones
There are plenty of different types of coral calcium supplements available. Coral calcium powder is derived from the Sango reef coral in Okinawa, Japan. The powder is processed and provided to you in capsule form. The natural ingredients help remove toxins form your body. Coral Calcium Plus allows you to reap the benefits of organic minerals that have been digested by small sea life with coral harvested above seal level. Take one capsule with each of your three daily meals to enjoy the synergistic advantages of science and nature coming together.