Price and inventory may vary from online to in store.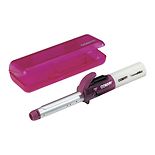 Infiniti by Conair Mini Pro Cordless Therma Cell Butane Cartridge Curling Iron 5/ 8 Inch Model TC605 (1 ea)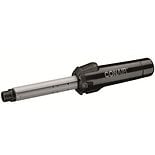 Conair You Style Pro Cordless ThermaCell Curling Iron, Model TC700R 3/ 4 inch Barrel (1 ea)
Sale price is $18 and 26 cents

And Regular price is $19 and 99 cents
Cordless Curling Irons
Want springy curls, sexy ringlets or gorgeous waves? The right curling iron can give you that perfect hairstyle for everyday beauty or for special occasions. At Walgreens, we can help you find the ideal curling iron with a wide variety of models, including options that are cordless for added convenience. Browse the selection from top brands like Conair.
Why Go Cordless?
Curling irons require power in order to become hot and work properly, and most curling irons receive that power from electricity. These traditional curling iron designs have electrical cords attached to their handles and must be plugged into a wall outlet prior to use. In cordless curling iron designs, the cord has been removed and an alternative power source is used. Without the cord tethering you to the wall, you may find it much easier to maneuver the curling iron. This ease of use can help you better style your hair for foolproof results every time. A cordless curling iron can also be used anywhere, even in places where there is no free wall outlet available.
How Do Cordless Curling Irons Work?
Cordless curling irons may have one of two types of power sources. A rechargeable or disposable battery can be used to supply the curling iron with power. More commonly, cordless curling irons run on butane, a type of fuel made from natural gas. With a ThermaCell butane cordless curling iron, you'll insert a cartridge into the handle of the curling iron prior to use. A single cartridge can be used multiple times until the butane inside of it becomes completely depleted. At that point, you'll need to remove the empty butane cartridge and insert a fresh one. Most cordless curling irons that run on butane come with at least one cartridge. It's a good idea to order a package of replacement cartridges as well.
Mini vs Full Size Curling Irons
There are two types of cordless curling irons available on the market today: full size and mini. A mini cordless curling iron has a shorter barrel and handle than a full size model. The mini irons are designed for traveling, as they can fit easily into a suitcase or travel bag. You may also choose to purchase a mini cordless curling iron if you have limited storage space at home.