Price and inventory may vary from online to in store.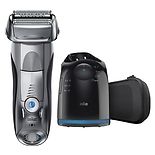 Braun Series 7-790CC Cordless Pulsonic Shaver System (1 ea)
Sale price is $169 and 99 cents

And Regular price is $299 and 99 cents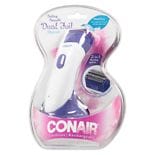 Conair Satiny Smooth Lady Pro Cordless/ Rechargeable Razor LWD375NCS (1 ea)
Sale price is $19 and 99 cents

And Regular price is $26 and 99 cents
Wahl Lithium Ion Cordless Clipper, Model 79600-2101 (1 ea)
Cordless Shaver
If you're looking for a close, smooth shave without having to worry about cuts or nicks, you might consider a cordless shaver to get the results you want. These convenient shavers work by pulling the hair up out of the skin before cutting it, so they never actually touch your skin surface and they're more portable than razor blades. Walgreens.com carries cordless shavers from well-known brands like Braun and Wahl.
Cordless electric razor advantages
An electric razor can give you a closer shave than a traditional razor blade and cordless versions are more portable and can be a good option on-the-go. There's no need to search for an electrical outlet when using a cordless shaver because they run on batteries and there are even plug-in rechargeable shavers.
Choosing the best shaver
Cordless shavers come in two types: foil and rotary. A foil shaver can provide a closer shave, but they are noisier and more difficult to maneuver around the contours of the face than a rotary cordless shaver. Most cordless shavers are easy to use and provide a close shave with little effort. An electric shaver usually works best on dry skin, or you can apply a pre-shave lotion that dries the skin out before you start. Use aftershave once you are finished.