Price and inventory may vary from online to in store.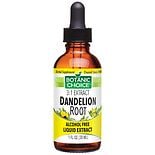 Botanic Choice Dandelion Root Herbal Supplement Liquid (1 oz.)
$689
$6 and 89 cents
$6.89

/ oz.
Botanic Choice Dandelion Root 520 mg Herbal Supplement Capsules (90 ea.)
$800
$8 and 00 cents
$0.09

/ ea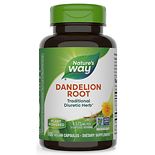 Nature's Way Premium Herbal Dandelion Root 540 mg Dietary Supplement Capsules (100 ea)
$699
$6 and 99 cents
$0.07

/ ea
Dandelion Herbal Supplements
Dandelions might be best known for their golden petals, but this plant can also be eaten. The plant's greens are fit to eat. They are rich in vitamin A. In fact, dandelion was served as a salad or side dish for centuries thanks to its rumored benefits. Vitamin A helps keep skin, bones, teeth and eyes healthy. Because of the plant's natural source of vitamin A, dandelion is available as an herbal supplement. Herbal supplements are usually pills or liquids that contain substances found in plants. Both the roots and above-ground parts of the dandelion plant are used in these supplements. Walgreens offers many types of dandelion herbal supplements. Explore your choices to find which product will work best for your needs. While dandelion supplements may be a source of vitamins for the body, there isn't enough proof to support their use in helping with any health problems at this time.
Dandelion Root Supplement Formulations
Dandelion root comes in three forms at Walgreens. You can opt for a liquid supplement - these extracts often work more quickly than a pill form. You can mix liquid extracts of dandelion root with water and drink it daily as a supplement. Not only are these liquid supplements handy to use-they also have a long shelf life. If you opt for a capsule supplement, you can find many styles of dandelion on hand at Walgreens. These herbal supplements are also offered in different dosing strengths. You should follow the manufacturer directions for proper use. Finally, you can add dandelion root to your daily food plan by drinking an organic roasted dandelion root tea. This caffeine-free tea can be simply made by pouring boiling water over the tea bag as told on the product package. Dandelion supplements may not be right for everyone. They can cause allergic reactions in some people. This is more likely if a person is allergic to ragweed, chrysanthemums, marigold, chamomile, yarrow, daisies, or iodine. Dandelion may not be safe to take with some medications. This may include some antibiotics, diuretics (water pills), lithium, and drugs that are changed by the liver. People with kidney problems, gallbladder problems, or gallstones might be told not to take this supplement. Be sure to talk to your doctor before taking dandelion supplements to help decide if it is right for you.
This summary is intended for general informational purposes only, and should not be interpreted as specific medical advice. The U.S. Food and Drug Administration does not strictly regulate herbs and supplements. There is no guarantee of purity, strength, or safety of the products. As a result, effects may vary. You should read product labels. In addition, if you are taking medications, herbs, or other supplements you should consult with a qualified healthcare provider before taking a supplement as supplements may interact with other medications, herbs, and nutritional products. If you have a medical condition, including if you are pregnant or nursing, you should speak to a qualified healthcare provider before taking a supplement. Consult a healthcare provider immediately if you experience side effects.