Price and inventory may vary from online to in store.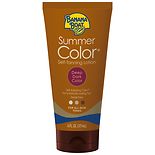 Banana Boat Sunless Summer Color Self Tanning Lotion, Deep Dark (6 fl oz)
$849
$8 and 49 cents
$1.42

/ oz.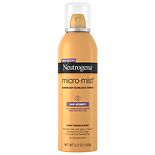 Neutrogena Micro-Mist Airbrush Sunless Tan Spray Deep (5.3 oz.)
$1299
$12 and 99 cents
$2.45

/ oz.
Deep tanning oils
Get the deep, dark and rich tan you want while still nourishing your skin with deep tanning oils. Tanning oils include ingredients that promote soft, healthy skin and protect your skin from the harshest UV rays. To offer protection while still promoting a dark tan, many deep tanning oils also offer SPF sunscreen. Depending on your needs, try tanning oil in different SPFs to control your level of tan and find the glow that's perfect for you.
Spray tanning oils
Sunscreen sprays offer quick, easy coverage, so you can apply deep tanning oils without taking too much time from your schedule. Simply spray the oil on all exposed areas of your skin, focusing on even coverage. The lightweight spray dry oil protects your skin and gives you a beautiful tan without leaving a greasy, heavy residue.
Traditional tanning oils
For soft, hydrated skin, choose deep tanning oils that you can rub onto your skin. Many tanning oils feature natural ingredients, such as coconut oil or banana extracts. Whether you're at the beach, pool or tanning bed, choose sunblock oils that leave behind a delicious fragrance and soft skin. When you swim or exercise, choose deep tanning oils that are water-resistant. Many deep tanning oils also offer conditioners that promise to extend your tan, so the remainder of your summer vacation will last a little longer.