Price and inventory may vary from online to in store.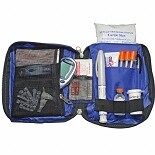 Medicool Dia-Pak Classic Diabetic Supply Organizer (1 ea.)
Medicool Dia-Pak Daymate Diabetic Supply Organizer (1 ea.)
Diabetic travel supplies
Always have access to diabetic supplies when you're away from home with diabetic travel supplies. Transport your supplies any time you're away from home with supply organizers and supply cases.
Diabetic supply organizers
Using a blood glucose meter to administer injections away from home can be difficult. With a diabetic supply organizer, you'll never forget cotton swabs or bandages again. Featuring a handy case, a diabetic supply organizer provides ample storage for all your supplies, and you can keep the organizer packed with everyday essentials that you might otherwise forget.
Choosing diabetic travel supplies
A diabetic organizer or diabetic supply case is perhaps the most important diabetic travel supply item. It keeps your diabetic travel supplies not only handy, but safe with a padded compartment to protect the delicate electronics in your blood glucose tester. Choose a case with cold packs if you have temperature-sensitive supplies, such as insulin. These cold packs are typically reusable for your convenience. When selecting a size for your case, make sure that it can hold all of your supplies but is small enough to tuck into your purse or briefcase.