Price and inventory may vary from online to in store.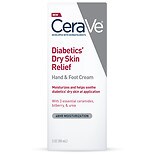 CeraVe Diabetics Dry Skin Relief Hand and Foot Cream (3 oz.)
$1199
$11 and 99 cents
$4.00

/ oz.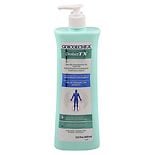 Goicoechea Diabet TX Skin Protect Foot Cream Fragrance-Free (13.5 oz.)
Diabetic foot creams
If you have diabetes, you can help keep your feet healthy and comfortable by using diabetic foot creams. Some of these foot creams are made to target one specific concern, such as antifungal creams. Other diabetic foot creams help to improve circulation for more effective healing, warmth and comfort. Choose a diabetic foot cream from DiabetiDerm, Healthifeet or Zostrix to help manage your foot ailments that are a result of diabetes.
Healthy, comfy feet
In addition to diabetic foot creams, you can find a range of products that can help with diabetes management here at Walgreens.com. We carry diabetic socks as well as other support socks and hosiery that can help improve circulation in your feet. To help with discomfort and foot pain, there are different types of orthotics and cushions.
Monitoring and nutrition
To manage your health, browse our range of diabetes supplies. You can find diabetes monitors as well as accessories such as lancets and test strips. For your health, there are many kinds of diabetes nutrition options that include diabetes shakes, snack bars and powders that can satisfy cravings without causing a blood sugar spike.