Price and inventory may vary from online to in store.
$6999
$69 and 99 cents
$0.58

/ ea
$1249
$12 and 49 cents
$0.15

/ ea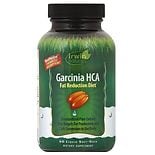 Irwin Naturals Garcinia HCA Fat Reduction Diet, Liquid Soft-Gels (90 ea)
$1444
$14 and 44 cents
$0.16

/ ea
Diet supplement
When diet and exercise are not giving you the fitness or weight loss results you're after, diet supplements may be able to help. Some of these dietary supplements can simply give you energy from protein to keep you motivated during workouts or other activities. Others are formulated to block fat, increase metabolism or help rid your body of toxins. Choose your diet supplement from such top brands as CytoSport, Clif Bar and ISS after consulting with your doctor.
Forms and flavors
Choose between diet supplements in tablet form and meal replacements. There are meal replacement bars as well as drinks and cookies, so you can get the nutrients you need while staying within your dietary goals. Other diet nutritional bars can help satisfy hunger for hours. If you're looking to build muscle, try protein shakes or supplements in addition to your exercise routine.
Choosing your ingredients
Some diet supplements are all-natural, and include extracts from botanicals, plants or fruits known to help increase energy or metabolism. There are also teas and herbs that can give you a natural boost. Energy enhancers come in a variety of strengths and formulas.