Price and inventory may vary from online to in store.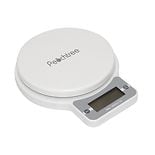 Peachtree Digital Display Kitchen Scale 3000 Grams (1 ea)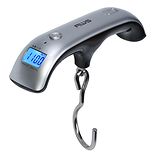 American Weigh Luggage Scale Digital Backlit LCD Screen, Auto-Hold Feature LS-110 Grey (1 ea)
Digital Scales
Whether you're concerned about maintaining a healthy weight with your diet and exercise routine or want to prepare the best meals in your home kitchen, you need to know that the weight measurements you're obtaining from your scale are as precise as possible. Digital scales offer an unparalleled level of accuracy to meet your needs. At Walgreens we have a wide variety of digital models available with options ranging from state-of-the-art digital bathroom scales to innovative digital kitchen scales.
Why Use Digital Scales?
Digital scales are the latest innovations among measurement tools for weight. The inside of a digital scale is similar to an analog scale in that it contains a spring that is compressed by the weight of the object being weighed. A digital sensor measures the compression and then uses the data to calculate a weight rating. The exact weight is then displayed on a screen.
With a digital scale, the weight rating is crystal clear. You won't have to wonder exactly where a needle is pointing like you do with an analog scale. Many digital scales offer additional benefits as well, such as the ability to convert weights from pounds to kilograms or ounces to grams.
Digital Bathroom Scales
Checking how much you weigh on a regular basis is important whether you're trying to maintain a healthy weight or are striving to lose weight in order to improve your health. Digital bathroom scales allow you to see your exact weight to the pound, tenth of a pound or hundredth of a pound, depending on the model.
Some models also provide information about your body fat and hydration percentages. This data can help you better understand your weight and monitor your progress. Bathroom scales come in many shapes and styles to complement bathroom decor. Make sure that you choose one with a maximum weight rating that is suitable for your needs.
Digital Kitchen Scales
Cooking or kitchen scales offer many benefits to home cooks. With a scale, you can portion food more easily in order to avoid overeating at mealtime and when snacking. Digital kitchen scales can also help you measure ingredients for recipes precisely or separate large quantities of food into smaller packages with ease. You'll find kitchen scales with bowl tops and flat tops to assist you with food prep.