Price and inventory may vary from online to in store.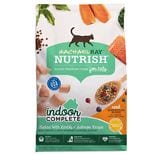 Nutrish Indoor Complete Dry Cat Food (48 oz.)
$899
$8 and 99 cents
$0.19

/ oz.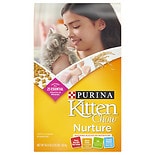 Purina Kitten Chow Dry Kitten Food (50.4 oz.)
$599
$5 and 99 cents
$0.12

/ oz.
Dry Cat Food
Walgreens offers a variety of dry cat food styles, making it simple for you to stock up for your feline friend. With many options to choose from, you can offer your cat a variety of flavors or sample different brands until your cat discovers its favorite. These nutrient-rich cat foods will not just satisfy your feline friend's taste buds; they will also be good for your pet. Evaluate the dry cat food options available to help ensure your kitty is always well fed.
Health-Promoting Foods
Whether your cat has a specific health condition or you are simply looking out for its health, you can find dry cat foods that are designed especially with your kitty's health in mind. First, you might want to ensure your cat stays at a healthy weight, or perhaps you're trying to combat a weight problem with your cat. You can find dry cat foods that feature a built-in weight control system, which uses I-carnitine to promote a healthy weight. These veterinarian-recommended foods are designed to meet your cat's nutritional levels. Using high-quality protein and no added gluten, these cat foods are 100% complete and balanced, also offering Omega fatty acids for a healthy coat and prebiotics and beet pulp for healthy digestion. These dry cat foods can even help reduce hairball production and improve the look and feel of your cat's coat. Finally, you can find dry cat foods that ensure healthy digestion and metabolism as well.
Flavor-Rich Foods
Healthy dry cat foods are not short on flavor. These foods come in a variety of flavors to delight your feline friend's taste buds. Chicken-flavored dry cat foods deliver nutrients, minerals, and antioxidants to your cat, all with an incredible taste that cats love. Other dry cat foods combine delicious flavors, tantalizing your cat's taste buds with chicken, beef, turkey, and garden vegetables. Your cat will also benefit from vitamin A and taurine, which promote clear and healthy vision, as well as essential fatty acids that encourage healthy skin and coat.
Dry cat foods available here at Walgreens are formulated to meet the nutritional levels established by the Association of American Feed Control Officials (AAFCO) Cat Food Nutrient Profiles.