Price and inventory may vary from online to in store.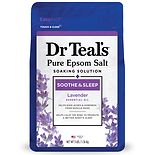 Dr. Teal's Epsom Salt Soaking Solution, Soothe & Sleep Lavender (3 lb)
Sale price is $4 and 99 cents

And Regular price is $6 and 79 cents
Epsom salt
Epsom salt is a natural remedy that can be used to soothe the inside and the outside of your body. Use Epsom salt as a therapeutic bath additive along with bath oils to treat aches and pains or dissolve the salt in a drink to help relieve occasional constipation. Epsom salt has many uses and is a natural remedy so you don't have to worry about what you're putting in your bathtub or drink.
Epsom bath to soothe the body
Tired, aching muscles can be soothed in a warm bath with two cups of Epsom salt added to the water. This trusted bath treatment relieves tension and relaxes the body as you soak, pulling the stress of the day out of you. Epsom salt also deep cleans pores and aids in exfoliating the skin. When you step out of the bathtub, you will be reinvigorated, and your skin will feel silky smooth. If your feet ache, you can use Epsom salt in a tub of water as a foot soak, effectively relieving pain in that one area of the body. This type of bath salt can also be purchased with essential oils added, such as lavender and eucalyptus, to increase the therapeutic effects.
Epsom salt helps regulate the body
Epsom salt can also be used as a natural remedy to help regulate your system if it gets backed up. Two to four level teaspoons of Epsom salt in a full glass of liquid can help relieve occasional constipation or it can be used in conjunction with a laxative. Natural salt has many uses as a traditional home remedy, making Epsom salt the perfect product to keep on hand in the house.