Price and inventory may vary from online to in store.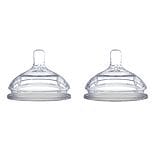 Comotomo Silicone Replacement Nipples, Fast Flow, 6+ mo (1 ea)
Fast flow baby bottles
Allow your older baby to control his or her milk flow with fast flow baby bottles. These special baby bottles are particularly suitable for older breast-fed babies who are being introduced to bottle feeding.
Silicone nipples help reduce feeding discomfort
Fast flow baby bottles use silicone nipples that help your baby enjoy every meal. The nipples are structured to allow your baby to pull milk out of the bottle in the way that best suits him or her, so fast flow products are an ideal option for older babies who are making the transition from breast to bottle. Fast flow baby bottles feature a variety of bottle designs to promote eating in an upright position to prevent ear infections. Babies who are fed with fast flow baby bottles and nipples experience less gas, spit up less frequently, and have fewer episodes of colic.
Baby products for your baby's special needs
Fast flow baby bottles are the perfect solution for independent babies who want to control their own eating habits. The baby bottles come in a variety of designs, including advanced wide and angled bottles, so you can find the bottle design that makes your baby the most comfortable. Replacement fast flow bottle nipples for these bottles come in individual packs and multiple packs, and some feature a specially constructed wide neck to improve milk flow. Fast flow baby bottles help you keep up with your baby's needs as he or she grows older.