Price and inventory may vary from online to in store.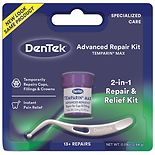 DenTek Temparin Max - Lost Filling & Loose Cap Repair (1 ea)
$529
$5 and 29 cents
$58.78

/ oz.
Dentemp Maximum Strength Custom Repair Lost Fillings & Loose Caps (1 ea)
$499
$4 and 99 cents
$4.99

/ ea
Dentist On Call Refilit Repair Lost Fillings Cherry (.07 oz.)
$529
$5 and 29 cents
$75.57

/ oz.
Filling repair
You can help protect a cracked, damaged or lost crown or filling with filling repair kits. These useful temporary fillings can help you continue to eat and brush your teeth more comfortably until a dentist can give you a permanent replacement. Protective dental repair can even help prevent the pain that can accompany a lost filling or cap. Shield your exposed tooth or gums with filling repair and dental cap repair products from brands DenTek, Recapit and more here at Walgreens.com.
For teeth in need
Temporary fillings are made with materials similar to what dentists use for repair. Aside from covering fillings, these filling repair products can also help secure a loose cap or crown. You simply apply the crown repair to the crown and hold it on the damaged tooth. Most of the filling repair formulas don't require mixing and dry quickly so you can get on with your day.
Toothache relief
To help soothe pain, browse the toothache relief options here at Walgreens.com. Choose from pain relievers such as ibuprofen, aspirin and acetaminophen, or use a topical anesthetic to instantly comfort. There are even toothache kits that include tools for temporary fillings as well as toothache relief.