Price and inventory may vary from online to in store.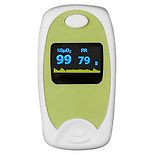 HealthSmart Fingertip Pulse Oximeter, Deluxe (1 ea)
Fingertip pulse oximeters
Need to keep track of your blood oxygen level? You can use a fingertip pulse oximeter on any of your fingers. These pulse oximeters can be used during physical activity to measure your heart rate. There are other oximeters that you can use for management of pulmonary conditions and additional health concerns. Brands such as Choicemmed, Drive Medical and MedQuip are here at Walgreens.com with a varied selection of fingertip pulse oximeters.
Comfort and reliability
Because fingertip pulse oximeters are non-invasive, you can use them comfortably multiple times each day. The multi-directional displays on many devices also make them easy to read from almost any angle. And in addition to fingertip oximeters, there are wrist pulse oximeters that can feature internal memory to store your readings. Look for additional features that make these devices dependable and convenient.
Overall wellness
For your health and well-being, we carry a range of products to help you care for yourself. If you use a finger pulse oximeter during exercise, browse products like fitness equipment, sports nutrition and workout accessories to help you make the most of your workouts. If you have pulmonary disease and are quitting smoking, browse stop smoking aides.