Price and inventory may vary from online to in store.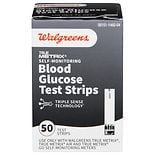 Walgreens True Metrix Blood Glucose Test Strips (50 ea)
$
41
99
$41 and 99 cents
  $0.84

/ ea
Glucose test strips
If testing your blood glucose is a part of your diabetes management plan, you need to get an accurate and reliable reading from your glucose test strips. There are blood glucose test strips for use with a variety of meters from brands Bayer, FreeStyle and Nova. These test strips are available in 25-, 50- or 100-packs so you'll have an adequate supply for as often as you test.
For accurate monitoring
When you're shopping for your glucose test strips, make sure to buy the brand or brands with which your diabetic monitor is compatible. Some test strips will only work with the same brand glucose monitor. Glucose test strips that don't require coding can be simpler and quicker to use. There are also test strips that are comfortably sized for easy handling to make testing as effortless as possible.
More than diabetic testing supplies
We carry a range of diabetic supplies to help you manage your blood glucose and maintain a healthy lifestyle. There are many diabetic meters with varying features to simplify testing whether you test weekly, daily or several times a day. You'll also find a variety of diabetic lancets to choose from. In addition to testing supplies, we carry diabetic supplements and foot care products that help with daily living. Diabetic nutrition supplements, protein supplements and shakes can help satisfy your hunger without a blood sugar spike. There are even diabetic vitamins to help support overall health. To take the best care of your feet, try diabetic socks to help alleviate leg fatigue and keep your feet dry, and foot creams that can help circulation.