Price and inventory may vary from online to in store.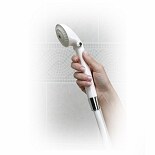 Drive Medical Deluxe Handheld Shower Spray with Diverter Valve-84-inch Hose (1 ea)
Sale price is $12 and 99 cents

And Regular price is $20 and 99 cents
Handheld showers
With ergonomic and easy-to-use designs, handheld showers can help you cleanse while standing or seated. Choose from different types of handheld shower heads that come with hoses in various lengths to meet your needs. Some handheld showers from brands such as Moen and Drive Medical allow you to control the flow of water, so you can select the setting that feels most comfortable.
Bath seats
If you need a seat for showering, you can consider several styles and types. There are bath benches and chairs that are typically rectangular and fit well inside larger tubs. For smaller showers, there are also shower stools with circular seats. Many styles of shower seats come with a holder for your handheld shower so you can worry less about dropping it and picking it up. Choose from styles of bath chairs that include seat backs and adjustable heights to meet your needs.
Staying safe
For additional safety in the bathroom, there are a variety of products that are available individually or in a kit. A bathroom safety kit can include a handheld shower, bath bench, bath safety mat and a grab bars. Safety grab rails can make it easier to get in and out of the bathtub or shower. Choose from grab rails that you can mount on your tub or on your shower wall for stability and safety.