Price and inventory may vary from online to in store.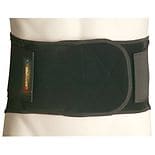 Maxar Work Belt Industrial Lumbar-Sacral Support Economy Black (1 ea)
Industrial back belts
Prevent strain or injury if you're doing heavy lifting or other strenuous activities by wearing an industrial back belt. These back support belts are worn around your waist to support your lower back while bending and lifting. Wear your industrial back belt over your clothes as you need it or for the entire day. Back belts from Champion are here at Walgreens.com.
Consistent support
You can choose the industrial back belt in the size that will fit best. If you are going to wear the belt over your clothes, be sure to factor that in when you choose the size. Industrial belts are available in x-small, regular, x-large and xx-large.
Target treatment
Some back pain can be alleviated with better support or cushions for your feet. Orthotics and cushions slipped into your shoes may help minimize or even eliminate back discomfort. See your doctor to determine if foot pain relief products such as orthotics might ease your back pain. Other options for treating minor back pain include topical pain relievers, back pain reliever medications and heat therapy products like heating pads.