Price and inventory may vary from online to in store.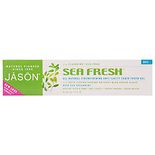 JASON Sea Fresh All-Natural Tooth Gel Deepsea Spearmint (6 oz.)
$699
$6 and 99 cents
$1.17

/ oz.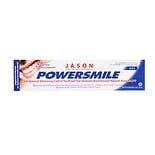 JASON Power Smile All Natural Whitening CoQ10 Tooth Gel (6 oz.)
$699
$6 and 99 cents
$1.17

/ oz.
Jason Toothpaste
To help keep teeth and gums healthy, provide gentle, non-abrasive whitening and specially designed toothpastes that will make kids want to brush; the range of Jason Toothpaste has something to offer virtually every member of the family for great oral health care. As one of the leaders in the field of natural ingredients in toothpastes, Jason includes special botanical extracts, enzymes and other natural ingredients in their toothpastes, to help provide healthy and effective tooth and gum care. Anti-bacterial ingredients, such as grapefruit and perilla seed extract, help to block the formation of tooth-harming sugar acids and bacteria. Soothing gel toothpastes, available in a variety of flavors, offer the enzyme CoQ10 and aloe vera to help calm irritated gums. Help brighten teeth with bamboo powder, calcium carbonate and silica to help remove plaque and stains - effective for whitening, but kind to the teeth's precious enamel layer. For children, there are toothpastes with fun, fruity flavors (all natural, too) that will make them look forward to brushing.
Natural, effective ingredients
Created in 1959 in California, Jason (which means "healer" in Greek) was founded by people dedicated to using natural ingredients in all their products, including their toothpastes. They offer a different approach to oral health care, providing products that use effective natural ingredients, while avoiding such additives as artificial colors, flavors, sulfates or saccharin. Choosing from among all the world's beneficial botanical extracts, enzymes and other natural ingredients, Jason toothpaste provides the freshening, cleaning action that helps to remove plaque, soothe gums, improve tooth brightness and help to suppress the formation of the sugars and bacteria that can cause tooth and gum damage. All of the ingredients and formulas have been rigorously tested for safety and efficacy, but never tested on animals. Constantly innovating and improving their products, they offer gentle, safe and effective solutions to oral health. The wide range of Jason toothpaste offers some styles that do not include fluoride, while others do include it-enabling you to choose which type of toothpaste you want in order to meet your family's needs. For adults and children, Jason toothpaste provides a selection that helps to keep teeth and gums healthy, clean and great-feeling - naturally!