Price and inventory may vary from online to in store.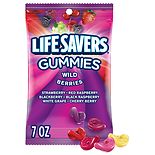 LifeSavers Gummies Candy Wild Berries, Wild Berries (7 oz.)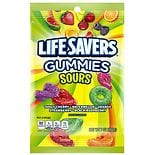 LifeSavers Gummies Candy Sours 5 Flavors, Sours (7 oz.)
LifeSavers Candy, Individually Wrapped Butter Rum (6.25 oz.)
$
2
49
$2 and 49 cents
  $0.40

/ oz.
Life Savers Candy
Life Savers Candy is a respected American brand -- and for good reason. Since 1912, Life Savers, a part of the Wrigley Company, has been delivering fresh and fruity hard candies to Americans across the globe. Whether you want to freshen your breath or enjoy the sweet and juicy taste of your favorite fruit, Life Savers has something to offer. Explore the enticing flavors available here at Walgreens, and stock up on your favorite Life Savers Candy today.
Hard Candy
Life Savers is best known for its hard candy, and the colorfully wrapped tube of candy is an iconic American treat. Back in 1912, Life Savers launched its refreshing Pep-O-Mint flavor. Today, the brand's flavors exceed 40, with something for every taste. Best of all, you no longer have to buy Life Savers in small rolls. You can stock up on individually packaged hard candies in a range of sizes, from 2.75 ounces all the way up to 41 ounces. These individually wrapped candies are perfect for slipping into your handbag, desk drawer, car console or candy dish.
Life Savers Candy offers something for everyone with its fresh, sweet, and fruity flavors. Satisfy your sweet tooth with a butter rum flavored hard candy. Make sure your breath is fresh throughout the day by choosing Wint-O-Green or Pep-O-Mint Life Savers Candy. Tantalize your mouth with fruity Life Savers in flavors such as wild cherry, raspberry, watermelon, orange, and pineapple. To keep everyone happy, invest in a variety pack that gives you flavors to please every taste.
Gummy Candy
Although Life Savers might be best known for its hard candy, the brand offers other enticing options as well. Since 1992, Life Savers has also been offering gummy candy in an array of flavors. These hole-in-the-middle candies, much like the hard candy, launched in three flavors: grape, mixed berry, and five flavor. Today, Walgreens offers Life Savers Gummies in a variety of flavors. Choose from wild berry, cherry, watermelon, green apple, strawberry, blackberry, and more. If you enjoy sour candy, opt for sour Life Saver Gummies in such flavors as tangy cherry and watermelon.