Price and inventory may vary from online to in store.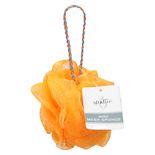 Studio 35 Mini Mesh Sponge Assorted Colors (1 ea)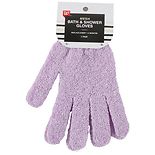 Studio 35 Mesh Bath & Shower Gloves Assorted (1 ea)
Mesh bath sponge
You can get a rich lather from a sponge that is soft on your skin. Mesh bath sponges can help you effectively cleanse and get the most from your body wash or bar soap. Choose from different sizes and colors, or try one that comes with accessories to hang it in the shower to dry. You'll find mesh bath sponges and more for your bathing and cleansing needs here at Walgreens.com.
Daily cleansing and care
In addition to mesh bath sponges, there are shower sponges in a variety of materials available here. To help make washing hard-to-reach areas a breeze, you can use a bath sponge that is attached to a long handle. You could also choose an exfoliating sponge to help reveal soft skin. Pair the sponge with an exfoliating scrub to help get an extra fresh feeling. Shower scrubs and cleansers are also available here to help care for your skin. Choose a shower soap for your skin type, from acne cleansers to deodorant soaps and soap for sensitive skin.
Hair care and more
Finish your shower toolkit with a shampoo for you. There are options for many hair types, such as shampoo for curly hair, color enhancing shampoo and volumizing shampoo for fine hair. Follow up with a conditioner for manageability, shine and a soft feeling. Conditioners for color treated hair and leave in conditioners can help protect and restore your hair.