Price and inventory may vary from online to in store.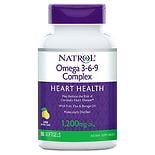 Natrol Omega 3-6-9 Complex Dietary Supplement Softgels (90 softgels)
$1169
$11 and 69 cents
$0.13

/ ea
Natrol multivitamins
Natrol multivitamins are dietary supplements that allow you to get all the vitamins you need in a convenient form factor. These multivitamins contain numerous vitamins and nutrients that can benefit many different people. Multivitamins exist for both children and adults. Because children may find it difficult to swallow pills, Natrol multivitamins are also available in liquid form, making it easier for children to take multivitamins on a daily basis. Liquid multivitamins can be flavored and naturally sweetened to make the taste more appealing to children. Vitamins can also be found as soft gels, capsules, and tablets. Natrol multivitamin pills are easy to swallow and quick to take, allowing you to enjoy the health benefits of various vitamins and nutrients without taking too much time out of your day.
What's in a multivitamin?
Natrol multivitamins can contain numerous vitamins, minerals, and antioxidant depending on the formula. Some formulas contain up to 23 vitamins and minerals to satisfy much of your vitamin needs. Yeast, egg, gluten, and other additives are absent from Natrol multivitamins, making them safe options for people with dietary restrictions. Liquid formulas intended for children are also formulated to deliver numerous vitamins and contain natural sweeteners and flavoring for added taste.