Price and inventory may vary from online to in store.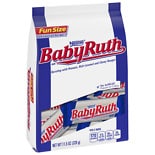 Baby Ruth Fun Size Candy Bars (11.5 oz.)
2/$700
or
1/$399
2 for 7 dollars and 00 cents or 1 for 3 dollars and 99 cents
$4.99
  $0.35

/ oz.
Sale price is 2/$7.00 or 1/$3.99

And Regular price is $4 and 99 cents
Nestle Candy Bars
Indulge your sweet tooth with Nestle Candy Bars available at Walgreens. When you need a sweet treat or an afternoon pick-me-up, opt for one of Nestle's classic candies. Whether you like your chocolate with or without nuts, you have a variety of Nestle Candy Bars to choose from. Make your day a little sweeter with these tempting treats available here at Walgreens.
Sweet Treats
Nestle is a household name, and so are the company's many delicious candy bars. Chocolate candy bars feature a variety of mouthwatering ingredients. Nestle Candy Bars combine milk chocolate with many delicious ingredients including peanuts, raisins, crisped rice cereal, chewy caramel, chewy nougat and peanut butter in a variety of combinations. Nestle is working to reduce and remove trans fats from all of its products in the near future. Many of its candy bars are already cholesterol free. In fact, you can even find candy bars that have 30 percent less fat than other leading brands. Nestle Candy Bars come in a variety of sizes, ranging from 0.75 oz to 3.7 oz.
Choose the combination of delicious ingredients in Nestle Candy Bars that best suits your tastes. Or, if you can't decide, stock up on a stash of Nestle Candy Bars so that you always have one on hand when that sweet tooth strikes. After all, a delicious candy treat isn't just for Halloween.
Good Food, Good Life
Nestle might be best known for its rich and indulgent candy bars, but the company does more than produce candy. It is the world's leading nutrition, health, and wellness company, led by the simple mission of "Good Food, Good Life." The company develops its line of products with an acute awareness of quality. Its 29 research, development, and technology facilities across the globe allow the company to ensure its candy bars and other products are high quality and ready for your consumption. Nestle also employs nutritionists who verify that every food product is safe for every consumer. With a proven research and development process, a proven and experienced team of researchers, and more than a century of experience in the U.S. market, Nestle is a brand you can trust. Indulge your sweet tooth and enjoy Nestle Candy Bars from Walgreens.