Price and inventory may vary from online to in store.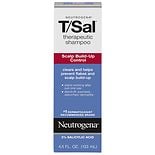 Neutrogena T/ Sal Therapeutic Shampoo Scalp Build-Up Control (4.5 fl oz)
$
7
79
$7 and 79 cents
  $1.73

/ oz.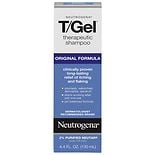 Neutrogena T-Gel Therapeutic Shampoo (4.4 fl oz)
$
7
99
$7 and 99 cents
  $1.82

/ oz.
Neutrogena Triple Moisture Professional Cream Lather Shampoo (8.45 fl oz)
$
7
29
$7 and 29 cents
  $0.86

/ oz.
Neutrogena T-Gel Therapeutic Shampoo (4.4 fl oz)
Sale price is $5 and 12 cents

And Regular price is $7 and 99 cents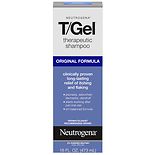 Neutrogena T-Gel Therapeutic Shampoo (16 fl oz)
$
18
99
$18 and 99 cents
  $1.19

/ oz.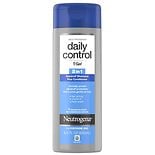 Neutrogena Daily Control 2 in 1 Dandruff Shampoo Plus Conditioner (9 fl oz)
$
9
79
$9 and 79 cents
  $1.15

/ oz.
Neutrogena Shampoo
Much like the skin, the hair and the scalp also have varying needs from one person to the next. Some may find their scalps tend to be overly oily while others may see occasional dandruff flakes or dry skin issues. The #1 Dermatologist Recommended skincare brand, Neutrogena, offers a wide selection of shampoo and hair care products in addition to its long line of skincare goodies. As a member of the Johnson & Johnson family, Neutrogena gains credence to its long line of products and the desirable results they provide.
Addressing Build-Up and Dandruff
It is important to clear your hair of residue and build-up. A good residue-removing shampoo (or clarifying shampoo) can easily eliminate impurities and build-up from continued product use. After rinsing clean, go back to your regular shampoo until it's time to clarify again next week. Dandruff is another common hair care complaint, and thankfully, a good shampoo can also help control itching and flaking. Clear away build-up from the scalp, as well as flakes or crusting on your scalp with a simple twice-a-week application.
Fortifying Repair for Your Hair
Whether by the environment, coloring and chemical treatments, or pure bad luck, hair sometimes becomes dry, brittle, or damaged over time. Breakage and split ends can ruin your day, but thankfully these conditions are easily remedied. An effective repair shampoo can help to fortify the strands of your hair, leaving it stronger, smoother, and shinier. Fortifying shampoos and fortifying conditioners penetrate deeply into the strands of the hair, delivering noticeable results that give your hair a beautiful look and feel.
Therapeutic Options
Sometimes your hair and scalp just need a little TLC. Common conditions like scalp psoriasis and dandruff can benefit from one of Neutrogena's therapeutic shampoos, which target the problematic scalp with active ingredients and work to relieve itching associated with common scalp conditions. These therapeutic shampoos begin working from the first application and in many cases, they even provide lasting relief and results within hours after the first application.