Price and inventory may vary from online to in store.
Nexxus Sculpting Gel for Texture Exxtra Hold (8.5 oz.)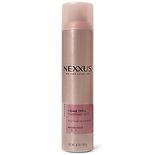 Nexxus Comb Thru Finishing Mist for Volume (10 oz.)
$
13
99
$13 and 99 cents
  $1.40

/ oz.
Nexxus Hair Products
Are you plagued with more bad hair days than good because you haven't found a hair product to handle your unique hair issues? Nexxus can solve even your most difficult hair woes. Whether your hair is dull and lifeless, frizzy and fly-away, or just plain unmanageable, Nexxus hair products are formulated and designed to work together, quickly restoring the health, shine, and beauty of your hair. With Nexxus, you can be confident that every day will be a good hair day.
Hydra-Light
Nexxus Hydra-Light products hydrate your hair to keep it soft and healthy but without any heaviness. Infused with lightweight deep-sea minerals, these products give your hair 85 percent more fullness and body than other hair care products.
Frizz Defy
Good news -- no more frizzy hair with Frizz Defy products. Light Moroccan argan oil retains the moisture in your hair, but not the humidity, reducing frizz up to 87 percent when compared to non-conditioning shampoo usage. You'll love the fluidity of your soft and silky hair.
Pro Mend
Say good-bye to split ends with the Nexxus Pro Mend hair-care system. Capable of binding 92 percent of split ends after one use, you'll want to continue using this amazing array of products to keep your hair shiny and free of split ends.
Youth Renewal
Conquer the signs of aging hair with the Nexxus Youth Renewal system. When used regularly, these products will revitalize your hair, turning dull, lifeless, and brittle hair into healthy, vibrant, manageable hair. And everyone will wonder just how young you are.
Color Assure
Hair products often dull and fade color-treated hair, but the Nexxus Color Assure system gives you twice the color protection of standard shampoos. The pre-wash primer, shampoo, and conditioner in this system will keep your color vibrant and rich, shampoo after shampoo.
Signature Line
For the woman who needs a higher standard in performance, Nexxus offers customized solutions for your most difficult hair situations. Extremely dry, damaged hair becomes healthy and baby soft, while limp, fine hair gets the volume you never thought possible, with the Signature Line of products. No matter the problem, Nexxus hair products have a solution for you.