Price and inventory may vary from online to in store.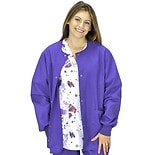 Medline Scrub Jacket Unisex Warm-up with Knit Cuff Regal Purple (1 ea)
Nursing scrub jackets
Whether you wear it for practical purposes or for another layer to stay warm at work, nursing scrub jackets can brighten up your scrub uniform. These scrub jackets for nurses offer easy on and off snap fronts. There's also a wide choice of patterns and colors to choose from in sizes small, medium, large, X-large and XX-large. Find your new nursing scrub jacket from brands Medline or American Dawn.
Top off your scrubs
The comfort of a nursing scrub jacket can be found in the cut, attention to detail and fabric used. Practical features like multiple pockets allow you to carry what you need and always have it at hand. You can even show off your personal style with your scrub jacket. Choose from the many patterns that include bird collage, bunnies 'n bears and pandas or solid colors such as navy, blue or purple.
For your professional medical wardrobe
Complete your professional wardrobe with scrub pants and tops, also available for order here. Here at Walgreens.com, medical scrub jackets are just one item to complete your medical clothing wardrobe. You'll find entire scrubs uniforms as well as white or colored lab coats for a more traditional look.