Price and inventory may vary from online to in store.
$
5
99
$5 and 99 cents
  $1.02

/ oz.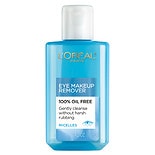 L'Oreal Paris Skin Expertise Eye Makeup Remover, Oil-Free (4 fl oz)
Sale price is $6 and 39 cents

And Regular price is $7 and 99 cents
Oil-free makeup remover
Gently nourish your skin while removing stubborn makeup by using an oil-free makeup remover. If you have ever struggled with acne, oily skin or other blemishes, leaving makeup on overnight can clog your pores and lead to further skin problems. Some facial cleansers may be too harsh for your individual complexion and lead to further outbreaks, if they are oil-based, but oil-free makeup remover combines effective makeup removal with gentle cleansing formulas that protects your sensitive facial skin. Oil-free makeup remover can also help erase mistakes on your makeup application.
Makeup remover wipes and liquid removers
Makeup wipes can help remove your makeup quickly and easily with just a few wipes. Look for wipes that are pre-moistened with oil-free makeup remover, meaning that you only need to swipe a makeup remover towelette over your face and clean down to your pores. Gentle, soft makeup remover wipes soothe your skin instead of causing irritation. Liquid makeup remover is versatile, allowing you to use as much or as little as you need. The oil-free formulas give your skin a fresh, nourished feeling, without leaving heavy, greasy residue.
Eye makeup remover
The skin around your eyes is especially delicate, so eye makeup removers are especially gentle. Your oil-free makeup remover should still feature powerful cleansing properties. Remove mascara, eye shadow and eyeliner easily, even if you wear contact lenses or have sensitive eyes. Eye makeup pads help you remove makeup with just a few wipes.