Price and inventory may vary from online to in store.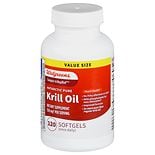 Walgreens Krill Oil Omega-3 Softgels (120 ea)
$
33
99
$33 and 99 cents
  $0.28

/ ea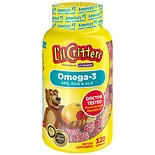 L'il Critters Omega-3 DHA Gummy Fish Assorted (120 ea)
$
12
49
$12 and 49 cents
  $0.10

/ ea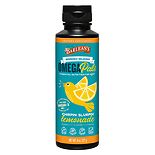 Barlean's Organic Oils Omega Kids Swirl Omega-3 Fish Oil Lemonade (8 fl oz)
Sale price is $11 and 99 cents

And Regular price is $12 and 99 cents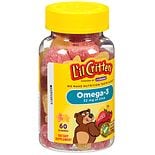 L'il Critters Omega-3 DHA Dietary Supplement Gummy Fish (60 ea)
$
6
49
$6 and 49 cents
  $0.11

/ ea
Omega-3 supplements
Omega-3 supplements contain high levels of omega-3 fatty acids, compounds that are necessary for the proper functioning of the brain, nerves, heart, joints, and immune system. The omega-3 fats in these dietary supplements are derived from fish, algae, flax, or chia seeds.
Choosing omega-3 dietary supplements
Omega-3 supplements typically contain one or more of the three forms of omega-3 fatty acids, EPA, DHA, and ALA. In general, ALA comes from plant sources, while EPA and DHA come from fish or algae. Fish oil supplements are a purified form of fish oil that contains high levels of DHA and EPA, so these are sometimes taken instead of omega-3 supplements. Different omega-3 dietary supplements contain different levels of omega-3 fats. Supplements containing only one omega-3 fat, such as DHA supplements, are also available.
Taking omega-3 supplements
Many people choose omega-3 supplements to help relieve joint problems, potentially avoid neurodegenerative diseases, or boost immune system functioning. These capsules, gummy supplements or softgels can be taken any time of day, and they can be taken with meals or on their own. Many people take a dietary supplement high in EPA to help improve the symptoms of arthritis or other joint diseases. People with concerns about neurodegenerative diseases may take DHA supplement or omega-3 supplement high in DHA. Pregnant or nursing women may also take supplements containing DHA to help support the brain development of the fetus or breastfeeding baby. Supplements with a combination of omega-3 fats, including fish oil supplements, may help lower triglycerides and improve the immune system in addition to offering brain and joint protection.