Price and inventory may vary from online to in store.
Sale price is $24 and 99 cents

And Regular price is $29 and 79 cents
Perry Ellis 360 Eau de Toilette (1.7 fl oz)
Clearance
Sale price is $20 and 79 cents

And Regular price is $37 and 99 cents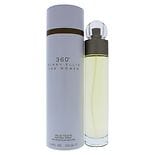 Perry Ellis 360 Eau de Toilette Spray for Women (3.4 fl oz)
Sale price is $33 and 99 cents

And Regular price is $64 and 99 cents
Perry Ellis Perfume
Scent has the remarkable ability to make an impression on those you meet, so you always want to make sure that you smell your best. A spritz of perfume or cologne can put that perfect finishing touch on your appearance, boosting your spirits and helping you feel confident throughout the day. At Walgreens, we can help you find the perfect scent for you to share with the world with a wide selection of Perry Ellis perfumes and colognes.
A Leading Fragrance Brand
In 1976, designer Perry Ellis introduced his first clothing line. From the start, Ellis' designs reflected his laid-back approach to fashion and his belief that clothing should be something fun. When he created his first fragrance products, Ellis sought to capture his approach to clothing design in a line of signature scents, formulating fragrances that were pleasing to smell but that were also playful and unique. This fragrance philosophy separates Perry Ellis products from others on the market and has made the collection of perfumes and colognes popular around the world.
Options for Him and Her
The Perry Ellis fragrance collection includes options for both men and women. From clean, fresh scents to exotic, sensual bouquets, the fragrances featured in the collection have broad appeal with something to suit every taste. The Perry Ellis fragrance range includes potent, long-lasting eau de parfum products and lighter eau de toilette options. Each Perry Ellis fragrance product comes in a bottle designed to match the scent with packaging that is as attractive to the eye as the fragrances are appealing to one's sense of smell.
Perry Ellis Fragrance Sets for Gift Giving
Along with standalone perfume and cologne options, the Perry Ellis fragrance line-up includes a number of gift sets. These sets bring together a popular Perry Ellis perfume or cologne with skin care and grooming products that are scented to complement the fragrance. The gift sets are great options for gift giving for men and women alike. You may also choose to purchase a Perry Ellis perfume or cologne gift set for yourself, so that you can carry your favorite scent throughout your skin care and personal care regimens.