Price and inventory may vary from online to in store.
Sale price is $73 and 99 cents

And Regular price is $83 and 99 cents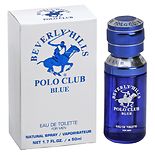 Beverly Hills Polo Club EDT Spray Blue (1.7 oz.)
Sale price is $83 and 99 cents

And Regular price is $104 and 99 cents
Polo Blue cologne
Polo Blue cologne is a sophisticated fragrance that will smell amazing on you and look beautiful on your dresser. It uses a complex blend of aromatic compounds to make sure that you smell as good as possible. With more than three types of cologne in the Polo collection, you'll be sure to find a fragrance that suits your personality and daily needs.
The timeless appeal of Polo Blue colognes
The Polo Blue cologne is a clean, evolved scent that will have a starring presence in any fragrance lover's cologne collection. It's also the perfect cologne for individuals just beginning to explore the world of fragrances. The Polo Blue eau de toilette can be described as handsome, timeless, and natural. Instead of overpowering your body's natural scent, this cologne works with it to create a signature scent that can be called your own. People are sure to take notice of how unique and comforting you smell. The warm and inviting character of the Polo Blue cologne can be attributed to its invigorating blend of patchouli, melon, amber, and more. This fragrance is versatile enough to work with any attire, enhancing the way you look and feel with its pleasing scent.
When to wear cologne
Life is full of special and everyday occasions, and you'll want a cologne that can accompany you wherever you go. You can always rely on the enduring scent of the Polo Blue cologne to enhance your natural [musk] and energize you for the tasks that await you. It's subtle enough to be worn every day and distinctive enough to make an impression on the people around you. Dab small amounts of the Polo Blue fragrance onto your skin to prepare yourself for school, work, and the nightlife.