Price and inventory may vary from online to in store.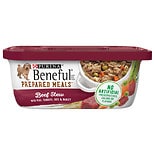 Purina Beneful Prepared Meals Dog Food (10 oz.)
2/$500
or
1/ $299
2 for 5 dollars and 00 cents or 1 for 2 dollars and 99 cents
2/$5.00 or 1/$2.99
$0.30

/ oz.
Purina Beneful
Feed your pet a nutritionally complete meal with the Purina Beneful line of pet foods. The Purina Beneful dog foods offer a variety of flavors, so you can ensure your dog's diet isn't bland. You can also feel confident about what you are feeding your beloved pet, because this dog food is packed with the nutrients and vitamins your dog needs to stay healthy and fit. The Purina Beneful line has dry dog food, wet dog food, and dog treats. The dry dog food is available in small and large bags, so you can choose the perfect size for your needs.
Beneful varieties
Purina Beneful moist foods are available in small dishes in flavors such as simmered chicken medley, roasted chicken, and beef stew. It can be used as a single serving for larger dogs, and the container has a lid that is resealable to make it easy to feed multiple servings from a single container for smaller dogs. You can also mix a portion of it with dry dog food to add more flavor. If your pet is overweight, try the Purina Beneful Healthy Weight dog food. Available as a bagged dry food, this food offers a nutritionally complete meal with fewer calories to help your adult dog maintain a healthy weight. It contains wholesome grains to give your dog energy, and it is packed with protein to help strengthen your dog's muscles.