Price and inventory may vary from online to in store.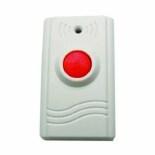 Drive Medical Automatic Door Opener Remote Control (1 ea)
Remote Control Vibrators
You deserve to fully enjoy every intimate moment, whether you're releasing tension on your own or experiencing a passionate moment with a partner. Today, there are many adult toys available to help women experience more powerful climaxes and enjoy deeper satisfaction in the bedroom and beyond. Remote control vibrators are one of the latest innovations in adult toys for her and can help you add variety to your self-stimulation and foreplay.
How Does a Remote Control Vibrator Work?
A remote control vibrator is an adult toy that produces vibrations to stimulate a woman's clitoral area or G-spot. Although this type of toy functions like a traditional vibrator, it has a special feature not found in other vibrating adult toys--a remote control. The remote control completely changes the experience of using the toy, making it possible to insert it into the vagina and change the speed or pulse pattern without removing it. Having a remote control also makes it possible to put the control of the toy into the hands of a partner, which can add passion and excitement to foreplay.
How to Choose a Remote Control Vibrator
There are many types of remote control vibrators available on the market today, but choosing the perfect one for your needs can be easy if you know how to compare models. Vibrators will differ in the number of speeds that they offer and the variety of pulse patterns available. If you're looking for a toy that allows you to experiment with new sensations, a model with more options will be a great choice for your needs, but if you tend to prefer to use the same settings with a toy every time, this may not be as important to you. Toys also differ in their shape, size and whether they are solely intended for insertion or can be used externally as well. You may also want to consider whether or not you need a waterproof toy that can be taken into the tub, shower or pool. Other things to compare include the color, the size of the remote and whether the toy's batteries are rechargeable or disposable.