Price and inventory may vary from online to in store.
Clean & Clear Advantage Advantage Acne Spot Treatment (1 fl oz)
$
8
79
$8 and 79 cents
  $11.72

/ oz.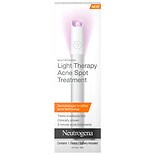 Neutrogena Light Therapy Acne Spot Treatment (1 ea)
$
22
99
$22 and 99 cents
  $22.99

/ ea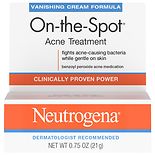 Neutrogena On-The-Spot Acne Treatment Cream (.75 oz.)
$
6
29
$6 and 29 cents
  $8.39

/ oz.
Spot treatments
Skin spot treatments are available for any age group and for any type of skin condition. Skin ailments can plague even the most regimented skin care planner and strike at any time throughout life.
Acne spot treatments
No matter what your age is, acne is never a fun thing to have to deal with. Facial breakouts are the most traumatizing, appearance wise, as they are noticed by anyone looking at you. However pimples on other areas of your body can be just as embarrassing and painful as the ones on your face. Treating these blemishes can mean a strict course of a few different skin care products, including using a deep cleansing facial scrub as well as an acne body wash to clean out your pores. Acne spot treatments allow you to focus on one blemish at a time, targeting the medicine to where you need it the most.
Aging spot treatments
As you get older, pimples may give away to other blemishes. These include age spots, wrinkles and other unsightly skin conditions that come with age. Most skin care companies have products made specifically for taking care of aging skin such as lotions or creams. Along with the standard scrubs, washes and creams that are marketed for being specifically to reduce signs of aging such as Olay's age defying line. Spot treatments target specific areas of your face and body that are more prone to problems. For example, dark areas on your face, hands and neck are a common issue as you mature. Buy an aging spot treatment that is made specifically to help those blemishes fade away.