Price and inventory may vary from online to in store.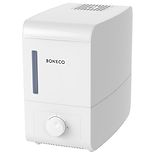 Boneco Steam Humidifier S200 With Cleaning Mode (1 ea)
Steam Humidifiers
Steam humidifiers supply moisture to the air you breathe in. They do this by turning water into steam and releasing it into the environment. Breathing in steam can help moisturize dry air passages so you can breathe more easily when you're congested. At Walgreens, we offer a nice selection of steam humidifiers to help you and your family during the winter season.
The Soothing Power of Steam
Congested nasal passages and a dry, scratchy throat make it uncomfortable to breathe. Enjoy relief with a personal steam inhaler that delivers moist air to dry, scratchy mucous membranes and deep into your lungs. Some varieties of steam vaporizers come with a soft, comfortable mask you place against your nose and face to inhale the moist, soothing steam. You can control the flow of steam to meet your individual needs. Choose from models that are lightweight and easy to move from place to place and even simpler to use. Each one comes with complete directions on how to use and get the most from a steam humidifier.
Portable Humidifiers
Looking for relief on the go? Personal steam inhalers are designed to deliver steam without the requirement for a plug or electrical outlet. Lightweight and portable, personal steam inhalers are ideal to take on a trip or to carry to the office when you have a cough or cold. Keep one on hand so it's ready when your next cold strikes. Steam helps relieve congestion, cough and dry mucous membranes due to allergies, sinus problems and asthma.
Focused Therapy
Some steam humidifiers come with an attachment you can use to direct a focused stream of steam into your nasal passages to quickly relieve congestion and nasal dryness. Allergy and cold season is a little more bearable when you can breathe in moist, soothing steam whenever you need it. Steam humidifiers offer non-medicated relief from congestion and stuffiness in as little as 5 to 15 minutes, so you can focus on other things. Unlike medications for congestion and cough that can leave you feeling groggy, moist air from a steam humidifier is all natural. Personal steam inhalers are designed to be simple to use and easy to clean. Plus, you can adjust the flow of steam for maximum comfort.
Continuous Steam
Also available are lightweight steam humidifiers that release a continuous stream of soothing steam into a small room or other area. Keep one by your bed when you're congested to help relieve dryness, ease cough and congestion so you rest more peacefully. Ideal for children's rooms too. Some models contain a medicine cup you can use with liquid inhalants. Talk to your doctor about whether a liquid inhalant is right for you.
Why Use a Humidifier?
Many health care professionals recommend steam humidifiers for congestion or to relieve a dry, scratchy throat. Be sure to follow the directions to get the best results from a humidifier. Whether you choose a model to use at home or a personal steam inhaler to carry on a trip, steam humidifiers offer safe, non-medicated relief for minor congestion, cough and throat irritation.