Price and inventory may vary from online to in store.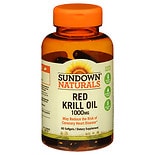 Sundown Naturals Krill Oil 1000 mg Dietary Supplement Softgels (60 ea)
$2399
$23 and 99 cents
$0.40

/ ea
Sundown Naturals fish oil
Supplement your heart-healthy diet with Sundown Naturals fish oil to promote optimal cardiovascular health. The capsules make it easy to get your daily dose of omega-3 fatty acids. Sundown Naturals sells several different types of vitamins and supplements available at Walgreens.com.
Omega3 supplements
Sundown Naturals fish oil contains natural omega-3s, which are important components to cellular, cardiovascular, and metabolic health. Omega-3 fatty acids are normally found in select foods, including salmon and walnuts, and they are not produced naturally by the human body. Taking these supplements helps you ensure that your body is receiving an adequate amount of the essential fatty acid, regardless of your diet. Sundown Naturals fish oil contains both EPA and DHA, providing you with vital nutrients for eye and brain health as well. Taking the supplements regularly may also help boost your mood.
Selecting fish oil supplements
Fish oil supplements are excellent for getting the beneficial nutrients found in cold-water fish. The capsules allow you to enjoy the benefits without the taste of fish or liquid fish oil. These fish oil supplements are purified to remove the risk of ingesting mercury as well. Sundown Naturals fish oil capsules are also odorless, which eliminates any potential aftertaste. You simply take the capsules as directed with your meals and get on with your day. Consulting your physician can help you determine the best dosage for your needs. Sundown Naturals fish oil capsules are available in different quantities, so you can easily keep them in supply if you take them regularly.