Teeth Whitening Toothpaste
Price and inventory may vary from online to in store.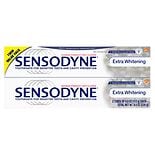 Sensodyne Extra Whitening Toothpaste for Sensitive Teeth & Cavity Prevention (4 oz.)
$
12
49
$12 and 49 cents
  $1.56

/ oz.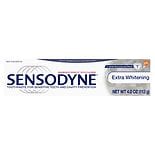 Sensodyne Extra Whitening Toothpaste for Sensitive Teeth & Cavity Prevention (4 oz.)
$
6
79
$6 and 79 cents
  $1.70

/ oz.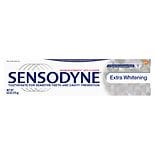 Sensodyne Extra Whitening Toothpaste for Sensitive Teeth & Cavity Prevention (6 oz.)
$
9
99
$9 and 99 cents
  $1.67

/ oz.
The Natural Dentist Healthy Teeth & Gums Whitening Plus Toothpaste Peppermint Twist (5 oz.)
$
5
99
$5 and 99 cents
  $1.20

/ oz.
Teeth whitening toothpaste
A dazzling white smile is a beautiful sight. You can brighten your own smile with teeth whitening toothpaste and gain that extra confidence by knowing your teeth look their very best. There are so many brands from which to choose, too! Teeth can become yellowed or stained for a variety of reasons. Many times, beverages such as coffee, tea, red wine or certain types of fruits and vegetables can cause staining. Smoking and chewing tobacco can also make teeth look yellow. Various medical conditions and some medications can also cause teeth to become darker. Even some types of dental fillings can cause tooth staining. With age, teeth often begin to lose their bright, white appearance. Teeth whitening toothpastes can help brighten the appearance of teeth by using special polishing particles to gently scrub the surface, clearing away stains that exist on the top of the enamel. Many formulas also include special ingredients which actually go beneath the surface of the tooth, to help break up stains and yellowing there. Used according to the package directions, teeth whitening toothpastes are safe and effective. Within a few weeks, you can achieve brighter, whiter teeth. And, of course, they work as general-purpose toothpastes, to keep your teeth clean, fresh and healthy.
Brush with confidence
You can use teeth whitening toothpaste with confidence. Carefully formulated and tested, these products are safe to use when following the package directions. The polishing materials and stain-lightening ingredients used in these products have been shown to be effective and gentle for adult teeth and are approved by professional dental organizations. Many teeth whitening toothpastes also feature ingredients used in toothpastes for sensitive teeth, to help prevent any discomfort in teeth and gums. Teeth whitening toothpastes can be used every day as a primary toothpaste, too, providing the same fluoride protection and cleaning ability as other toothpastes. Everyone wants to have the best-looking teeth possible and you don't have to give up your morning coffee and blueberry muffin to keep that bright, white smile. With a wide variety of teeth whitening toothpastes available, you can have both. That's worth smiling about!