Price and inventory may vary from online to in store.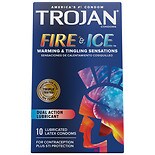 Trojan Pleasures Fire and Ice Dual Action Lubricated Condoms (10 ea)
$1549
$15 and 49 cents
$1.55

/ ea
Trojan Fire and Ice Condoms
Latex condoms are a reliable, convenient form of contraception and protection against sexually transmitted infections (STIs). Many couples worry that using latex condoms may reduce sensations and interfere with pleasure during intercourse but the latest condoms on the market today can actually make an intimate encounter more intense. Trojan Fire and Ice Condoms add something special to the moment while serving as a highly effective method of birth control and STI transmission prevention.
Fire Meets Ice for New Sensations
Trojan Fire and Ice Condoms are traditional latex condoms for men that are worn over the penis during intercourse to capture semen and prevent the exchange of bodily fluids. What makes the condoms unique is their special coating. The condoms are lubricated with a special dual-action formula. During intercourse, this lubricant produces warming and tingling feelings that both partners can sense. The added sensation can increase arousal and enjoyment for both of you, and the lubricant allows for easier and more comfortable penetration during both anal and vaginal intercourse.
Reliable, Durable Design
Enjoying the new sensations of fire and ice during intercourse doesn't mean compromising your level of protection. Trojan Fire and Ice Condoms are produced out of the finest quality latex, ensuring plenty of give for a comfortable fit and strength that can reduce the likelihood of rips and tears forming. Prior to packaging, the condoms are put through a series of quality tests, including an electronic strength test. This identifies any condoms that are not up to Trojan's high quality standards, so that they can be disposed of rather than boxed. This extra step in the manufacturing process sets Trojan Fire and Ice Condoms apart from lubricated condoms produced by other brands.
A Trusted Brand in Sexual Health
You can use Trojan Fire and Ice Condoms with confidence, knowing that you've chosen a contraceptive solution made from a true leader in sexual health products. Trojan has been in the business for decades and is one of the top selling brands of condom in the United States due to the quality of their products and their unique innovations, such as the Fire and Ice dual action lubricant.