Price and inventory may vary from online to in store.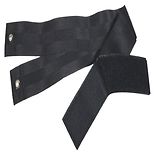 Drive Medical Hook & Loop Closure Wheelchair Seat Belt 48 Inch (1 ea)
Sale price is $14 and 99 cents

And Regular price is $15 and 99 cents
Wheelchair seat belt
Accessorizing a wheelchair is a great way to provide added comfort and security for an individual in a chair. In particular, wheelchair seat belts deliver an added level of safety that can protect the occupant from unnecessary harm. Typically, they are made from flame-resistant material, keeping the belts from accidentally becoming ignited. This accessory is usually made from strong webbing that is black in color. It provides durability and strength that delivers longevity along with the security that it provides. The black coloring offers versatility and a unisex appearance so that anyone can use them. A varied assortment of seat belts are currently being manufactured to fit wheelchairs, and each of them have been styled with a specific purpose in mind, primarily to protect the occupant from any injury experienced due to a fall. They are designed to work with power chairs and/or scooters as well as manual models. It is important to follow the manufacturer's instructions for securing the seat belt to ensure that the fit is tight and that it doesn't accidentally become loose.
Styles of seat belts
Regular styles of seat belts are designed to prevent the individual from accidentally falling out, while transfer belts ensure that patients cannot release themselves prematurely. All of the styles have been designed to fit a diverse selection of manufacturer's chairs, simplifying the purchasing process. Seat belt wrap-around styles, which are fashioned for manual wheelchairs, usually feature a single belt with a pinch-buckle enclosure. Some wheelchair seat belts are made with plastic clamps that are pinched to release them. In some cases, the belts are made with two individual pieces that are secured to the chair with screws. Many of the seat belts for wheelchairs have been fashioned with an auto style closure. Auto style seat belts with push button releases offer a quick and easy release mechanism and can be screwed directly into the frame of the wheelchair. Some belts have been fashioned with Velcro closures that offer ideal solutions for individuals who have lost some of the dexterity in their hands. They make it easy to close and open the seat belt without straining fingers and thumbs.