Baby Bath, Skin and Hair Products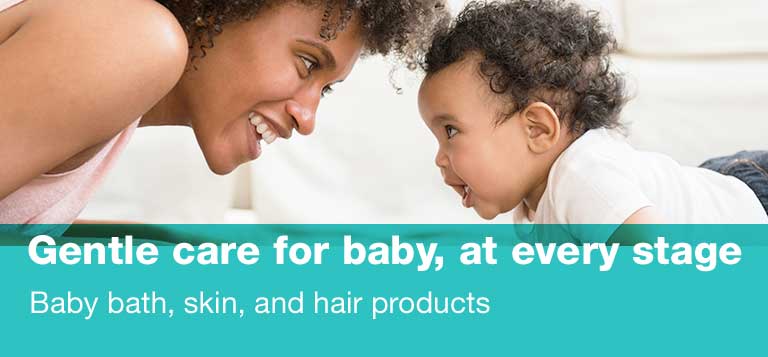 <!--Id is null-->
Baby Bath, Skin and Hair Products at Walgreens
Bathing, hair care and skin care are all essential for babies, and Walgreens can help you create the right regimen to give your baby the best possible care. We carry a diverse assortment of bath, hair care, skin care and sun care products developed specifically for infants. These products contain gentle, yet effective ingredients that are friendly to a babys delicate skin. You can browse our selection of products online and have your purchase shipped right to your door. Or, stop into your local Walgreens to pick up bath, skin and hair care essentials today.
Caring for Your Little One's Skin
Like adults, infants require a skin care regimen to keep their skin in the best of health. You can cleanse your child's skin with a body wash or soap developed specifically for infants. Baby bubble baths are also available to condition bathwater and create bubbles to make bathing more fun for little ones. After bathing, you can apply a moisturizing baby oil, lotion or cream to soften your babys skin and reduce the risk of dryness. Over-the-counter topical treatments are available for common baby skin care concerns like eczema and diaper rash.
Gentle Hair Care Products
Whether your little one has just a little peach fuzz or a full head of hair, proper hair care is important. Many baby shampoos are tear-free, meaning that they won't irritate your little one's eyes when you lather and rinse. Some baby shampoos double as body wash and can be used to cleanse your little one from head to toe. Hair conditioner can be applied after shampoo to make your baby's hair more manageable. Two-in-one infant shampoos let you cleanse and condition in just one step. After washing and conditioning, you can apply a detangler to make it easier to comb through your child's hair.
Protecting Your Child from the Sun
Sun exposure can cause painful sunburn and increase your child's risk of developing skin cancer in the future. Fortunately, you can protect your child from the harmful effects of the sun's ultraviolet rays with a sunscreen formulated for children. To compare sunscreens, examine the Sun Protection Factor (SPF) ratings of the products. The SPF tells you how much of the sun's ultraviolet B (UVB) rays a product protects against. Sunscreens with higher SPF ratings filter out more environmental UVB rays than products with lower ratings. Most pediatricians recommend using a broad-spectrum sunscreen that provides protection from ultraviolet A (UVA) rays as well as UVB. You can consult your doctor for advice about when to begin using baby sunscreen and what type is right for your child.
A Natural Approach to Hair and Skin Care
Some parents prefer to use natural bath, skin and hair products to care for their babies. Natural products contain more plant and mineral-based ingredients and fewer chemicals than conventional formulas. Some of these formulas may be a good option for infants who are sensitive to specific synthetic ingredients. Organic products have been certified by a third-party agency or organization for meeting certain standards. Typically, organic certified products must be made entirely or primarily out of natural ingredients that have been grown without the use of chemical fertilizers and pesticides.