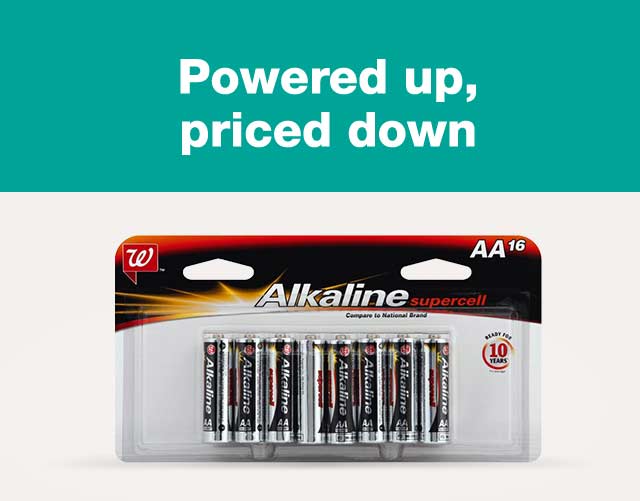 <!--Id is null-->
Batteries at Walgreens
Battery-powered electronics and devices can greatly simplify your life. Every day, you rely on a wide range of items that run on batteries, and you never want to find yourself unable to use these gadgets and aids. That's why it's important to stay stocked up on batteries for your household devices. Walgreens makes it easy to do so with a wide range of batteries and accessories available in our stores. You can also easily shop online for batteries by type and have your purchase quickly shipped right to your home. Click the links below to get started.
Comparing Types of Batteries
There are three main types of batteries available for powering your devices: alkaline, lithium and NiMH. Alkaline batteries are the most popular option because they are economical and available in a wide range of sizes. Lithium batteries are also sold in a number of popular sizes and can last about twice as long as conventional alkaline cells. Nickel metal hydride or NiMH batteries are rechargeable options. These batteries conduct large amounts of energy and are often used for powering digital cameras and other electronics. Because they are rechargeable, the NiMH batteries have a higher initial cost but can save you money over time.
Batteries for Special Tasks
Some types of devices require batteries of a specific size and shape, and Walgreens carries a wide range of these specialty products. Hearing aid batteries are designed specifically for assistive devices for the hard of hearing and are usually sold in multi-packs. Button batteries are used in watches, toys and a number of small electronics.
Keeping Your Batteries Charged
When you're on the go, you're not always able to access an electrical socket or a USB port to repower your mobile devices. A power bank can come in handy on those occasions. These accessories typically connect to smartphones, tablets and other rechargeable electronics with a USB cable. Once connected, they recharge the battery and allow you to continue to use your device for up to a certain number of hours. Some power banks have extra features, such as integrated flashlights.