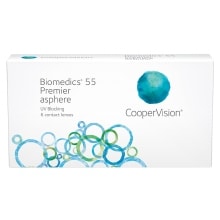 Biomedics 55 Premier
1.0 Box
4.6
6 lenses per box
1 year supply = 8 boxes (4 per eye)
Ships for FREE |
Allow 4 business days for shipping after prescription verification.
Contact lens prescription information will be faxed to the patient's doctor for verification. This may take 1-3 business days.
Already have a contact lens prescription through Walgreens.com? Reorder Contact Lenses
Adjusted Twice For Aberrations in Both the Lens & the Eye Resulting in Greater Clarity
Biomedics 55 Premier, also known as Aqualite 55 Pro Aspheric contact lenses
Plus powers are only available in Base Curve 8.8

One Year Supply = 8 Boxes (4 per eye)

Packaging: 6 Lenses per box

Manufacturer: Ocular Sciences Inc.

Lens Material: Ocufilcon D. 45%
Please Note: Aqualite 55 Pro Aspheric contact lenses by Ocular Sciences are packaged and sold under many different private labels, such as: Aqualens 55 Aspheric, Aqualite 55 Pro, Aquatech 2, Biomedics 55 Evolution, Biomedics 55 Premier, Clearsoft 2, Clinasoft 55 Pro, Flexsoft II Pro, Flextique 2, Hydroflex 2, Hydrovue 55 Aspheric, Mediflex II 55 Aspheric, Medisoft 2, Neoflex 55 Aspheric, Neotech 55 Eclipse, Ocupure 55 Aspheric, Ocusite Pro, Omniflex 2, Optica 55 Aspheric, Optiflex 2, Optiform 55 Aspheric, Optiview 55 Aspheric, Perspecta Aspheric, Polyform II, Polysoft 55 Aspheric, Procon II, Proflex 2, Prosite 55 Aspheric, Sofmed 55, Softech 2, Softique II, Softview 55 Pro, Softvue II, Spectera 2, Target Aspheric, Ultraflex II and Versaflex 55 Aspheric.
All of these lenses are made by the same manufacturer are identical in every respect.
©Ocular Sciences