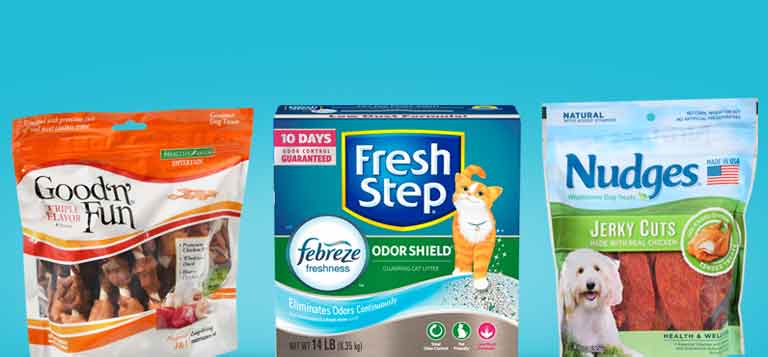 <!--Id is null-->
Pet Products at Walgreens
Pets are more than just animals. They're members of the family that you want to see living happy, healthy lives. Whether you have a dog, a cat, a goldfish, a bird or a hamster, proper care is required to help your pet thrive and that means staying stocked up on quality pet products. Walgreens makes it easy to purchase food, toys, supplements, health care solutions and the other pet care essentials you require. You can shop our large selection online and in stores to get everything you need to take the best possible care of your furry, feathered or scaly family member.
Everything You Need for Daily Pet Care
All pets need ongoing care in order to thrive, and Walgreens is your one-stop shop for everything that your pet requires. Toys keep pets entertained and can provide an outlet for scratching or chewing impulses that could lead to damage to your furniture and objects. Training pads for dogs and litter boxes for cats allow for easy clean up.
You can also find a wide range of grooming essentials from brushes to shampoos to nail clippers. For safe, fun outings, purchase a collar and leash for your pet, and ensure that your furry friend feels comfortable and safe at home with cushioned pet beds and protective crates. Shopping for pet care essentials is simple, as you can quickly browse by pet type.
Meeting Your Pet's Nutritional Requirements
Everyone needs vitamins, minerals and other nutrients to grow properly and remain in good health. Your pet also requires proper nutrition. Pet food is designed to serve as the primary source of nutrition for animals. In addition to all-purpose foods, you can find products designed for animals of certain ages and for pets with specific medical concerns, such as obesity and allergies. Some pets require nutritional supplements for extra doses of key nutrients or to address medical concerns. Your veterinarian can provide you with advice about which food is right for your pet and whether or not a supplement is recommended.
Caring for Your Pet's Special Needs
Many people rely on medicines for everyday care. If your pet is suffering from an illness or a chronic medical condition, your vet may recommend that you use topical or oral over-the-counter medications or other products for ongoing care. Walgreens stocks a wide range of medicines, creams, ointments and shampoos for addressing common pet health care concerns. Talk to your vet about which products are right for your pet and then browse our selection to find the right solutions for your needs.