Add Delight to Your Day
A treat should be extra-special. Good & Delish snacks, treats, beverages and meals make the everyday extraordinary. You'll find something special in each bite—from exciting flavor combinations to high-quality ingredients. It's time to take a moment for yourself and indulge.
Try some of our favorites
---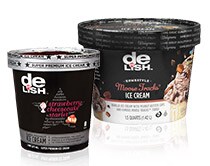 Dream of Ice Cream
Try Good & Delish Super Premium ice cream—our creamiest and most luxurious yet.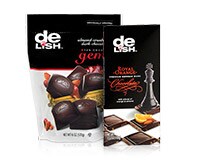 No Ordinary Chocolate
Forget humdrum chocolate. Good & Delish chocolate is melt-in-your-mouth amazing.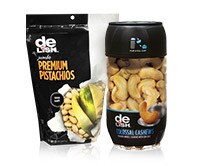 Snacking is Nuts!
Your favorite nuts are ready for on-the-go snacking. Our flip & fill cap gives you a perfect portion.
Find Good & Delish Exclusively at Walgreens
---
100% satisfaction guaranteed, or your money back.
Snacks
Salty. Sweet. Crunchy. Chocolate. We'll take care of your cravings—no matter what they are!
Candy
We take our sweets seriously. That's why we only use high-quality ingredients, like German chocolate and cane sugar, in Good & Delish candy.
Beverages
Enjoy something a little different. You'll love our electrolyte water, sparkling flavored waters and choice coffee and teas.
Frozen Foods
Go for quick and tasty. Appetizers, entrees and premium ice creams will leave you wanting one more bite. Be sure to try our top-rated pepperoni pizza.
Look for Fresh & Ready Options in Stores
---
Fresh is Here
Find healthy choices and delectable treats in select stores. Pick up fresh cut fruit, on-the-go meal options, yogurt parfaits and even desserts.
Three Ways to Indulge
---
There's always an easy way to treat yourself. Here are some of our favorites: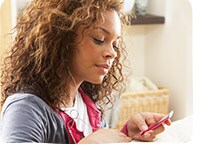 Take advantage of alone time.
Live in the moment and do something you want to do right now—like listen to music, start your new book or take a quick coffee run.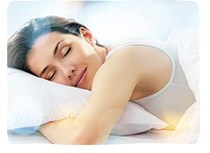 Say yes.
To dessert, to another hour of sleep on the weekend, to a couple extra minutes in the shower.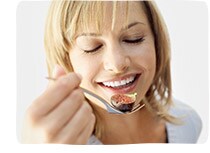 Pick up a Good & Delish treat.
With so many new flavors, exciting combinations and delectable options, you'll find a new favorite.