Creating Access to Healthier Food Options
Creating Access to Healthier Food Options
Offering Fresh Food Choices in Food Deserts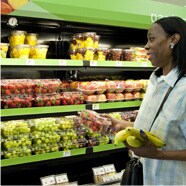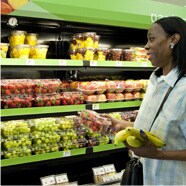 According to a recent study of food deserts, more than half a million Chicagoans live in areas with no or distant grocery stores, and roughly 400,000 live in areas with more fast food options than fresh food options.
To address the issue, Walgreens completed a redesign of 10 of its stores on Chicago's South and West Sides in August 2010. The locations offer more than 750 new food items, including fresh fruits and vegetables, frozen meats and fish, pasta, rice, beans, eggs, whole grain cereals and other healthy meal components. Because no other retailer in America serves more communities than Walgreens, the drugstore chain is uniquely positioned to provide solutions such as this.
Communities are responding positively to the new offerings, and some employees have lost weight after choosing to eat healthier food options now available.
In addition, Walgreens has joined forces with Northwestern Medicine and Near North Health Service Corp. in Chicago to pilot a program designed to educate residents in food desert communities about the link between healthy food choices and preparation and better management of chronic illnesses like diabetes.
Walgreens is reviewing opportunities to bring its expanded food selection to other food deserts across the country. In July, Walgreens expanded its food selection in nearly 30 San Francisco locations.
Relief in a Food Desert
Walgreens redesigned 10 Chicago locations to help offer healthier food options in areas that need it most. Hear what customers, organizations and elected officials are saying about the new offerings.