Walgreens Plastic Bag Initiative
Reducing Plastic Bag Usage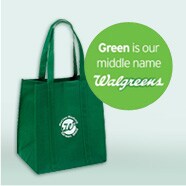 One simple question can help keep tens of thousands of plastic bags out of landfills each year. In August 2010, Walgreens started asking customers this question when they purchased three or fewer items: Do you need a bag?.
In six months, the company reduced its plastic bag usage by 45 million.
Customers can feel free to accept or decline a bag, purchase a recyclable tote or bring in their own bags. Major metropolitan areas in Georgia, Texas and Hawaii have shown marked success with the initiative and increased awareness among employees and customers about the importance of reusing, reducing and recycling.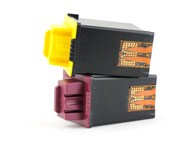 Recycling for a Cause
Walgreens gives customers another reason to recycle. By dropping off old printer cartridges and cell phones at a Walgreens photo counter, they are helping the American Cancer Society and American Heart Association because Walgreens will donate a total of $500,000 to these organizations as part of the program. Nearly 41,000 inkjet cartridges and hundreds of cell phones have already been recycled.