Reducing Our Carbon Footprint
Reducing Our Carbon Footprint
Green Alternatives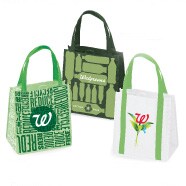 Walgreens offers green shopping bags for purchase as an alternative to plastic. They are made of non-woven polypropylene or 80 percent recycled water bottles.
This spring, the company held a competition among team members for a new reusable shopping bag design. More than 1,000 entries were submitted and the top three green designs will be rolled out nationwide in 2012.
---
Did You Know?
In the last 10 years, Walgreens has planted:
131,000 trees
1.2 million shrubs
All told, 2,100 acres of landscaping has been planted on Walgreens properties -- equivalent to an area two and a half times the size of New York's Central Park.