Price and inventory may vary from online to in store.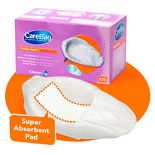 CareBag Bedpan Liner with Super Absorbent Pad White (26.08 oz.)
$1999
$19 and 99 cents
$0.77

/ oz.
Bed Pan Liners
Bed pan liners make cleanup easier for caregivers. Plus, lining a bed pan provides other benefits as well, including better odor control. At Walgreens, we offer a variety of bed pan liners designed to make your life simpler and more convenient. Choose from bed pan liners with added features like odor control and super absorbency that are easy to use and dispose of.
How Do Bed Pan Liners Work?
Cleaning a bed pan can be a very unpleasant task. Bed pan liners take the work out of keeping bed pans clean. Using a bed pan liner is simple. Just insert the bag into the pan according to the directions. The liner is designed to collect and hold waste so the bed pan stays clean and dry. Once waste is deposited in the liner, the bed pan liner can be closed and sealed like a bag using an attached drawstring. Some bed pan liners have a super-absorbent pad in the center that turns body fluids into gel in seconds. Bed pan liners make body fluids and waste easy to dispose of. They also help control odor once the bag is sealed. Changing a bed pan is more convenient and hassle-free than ever.
Multilayer Waste Disposable Bags
Once a bed pan liner is used, it's time to dispose of it. One solution is to use multilayer waste disposable bags. Choose from thick and sturdy bags that have a built-in barrier that controls odor. These bags aren't just for bed pan liners -- they're a convenient and sanitary way to dispose of baby diapers, pet excrement and other smelly items. You can use these sturdy, odor-control bags almost anywhere -- in the nursery, garage, pet areas and even in your car. Made of plastic, many of these bags are biodegradable and environmentally friendly.
Commode and Toilet Liners
Cleaning the bowl of a bedside commode is a chore. Commode and toilet liners take some of the work out of doing this unpleasant job. Liners are designed to fit over the bowl or pail of a toilet or commode and collect body fluids and waste. With the liner in place, the bowl stays clean and dry. Best of all, some toilet and commode liners have a built-in super-absorbent pad that soak up fluids and converts them into an easily disposable gel. When you're ready to dispose of the used liner, pull the drawstrings and the liner closes up like a bag so you can drop it in a waste bag. Caregivers can appreciate added convenience with less odor and hassle.