Price and inventory may vary from online to in store.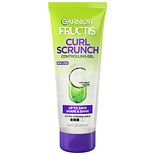 Garnier Fructis Style Curl Scrunch Controlling Gel, For Curly Hair (6.8 oz.)
Sale price is 2/$7.00 or 1/$3.99

And Regular price is $4 and 49 cents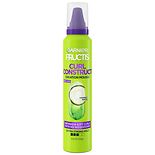 Garnier Fructis Style Curl Construct Creation Mousse, For Curly Hair (6.8 fl oz)
2 for $7.00 or $3.99 ea. with card
Offer valid at 2300 E PARK BLVD
Curly Hair Products
Ringlets, waves and corkscrew curls can all look beautiful when styled to perfection, but your curly tresses can pose some challenges to simple styling. Frizz, fly-aways and uneven curl formation can all compromise the polished look of your hairstyle and are very common problems for those with curly tresses. Using curly hair products from Walgreens can help you to overcome these roadblocks to getting gorgeous styles and keep your curls in the best of health.
Products for Your Daily Hair Care Routine
Healthy, manageable curls start with a great daily hair care routine. Curl defining shampoos and conditioners can help you to meet your hair's needs and get styling off to the perfect start. A curl defining shampoo removes the impurities that can weigh down curls and alter the natural beauty of their shape. At the same time, the shampoo promotes more even curling to simplify styling. After cleansing with a curl defining shampoo, applying a curl defining conditioner drenches the hair in moisture and feeds it vital nutrients. This helps to soften curls and makes them less likely to become frizzy due to dryness. Like curl defining shampoos, curl defining conditioners encourage the tresses to form curls and waves using specialized ingredients.
Treatments to Promote Healthy Curls
If your curls are stressed due to chemical treatments, sun exposure or thermal styling, they'll need some tender loving care to improve their manageability. Curly hair treatments can help you to restore flexibility, strength and softness to curls that are frizzy, dry and prone to breakage. Options include hair masks and deep conditioners for curly hair that stay on for a period of time and then are washed away. Leave-in conditioners that stay in place in order to work their magic all day long are another option.
Styling Tools and Aids for Curly Tresses
When it comes time to style your curls, you'll want to have the right tools and products on hand to make the task easy. Using a comb or pick designed specifically for shaping curls can help you remove tangles and neaten your hair without ruining curl formation. Curl enhancing gels, creams, mousses and sprays can help you more easily shape your curls and keep them in place. You may also want to invest in a hair dryer with a diffuser that will help you blow dry your curls with less frizz.