Price and inventory may vary from online to in store.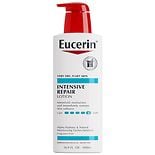 Eucerin Intensive Repair Enriched Lotion (16.9 oz.)
Sale price is $9 and 99 cents

And Regular price is $11 and 99 cents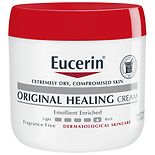 Eucerin Original Healing Soothing Repair Creme Fragrance Free (16 oz.)
$
14
99
$14 and 99 cents
  $0.94

/ oz.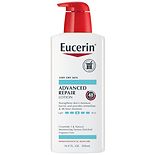 Eucerin Smoothing Repair Dry Skin Lotion (17 fl oz)
Sale price is $9 and 99 cents

And Regular price is $11 and 49 cents
Eucerin
Dry, itchy skin is not something that most of us enjoy dealing with and Eucerin makes a wide range of skin care products to combat and prevent dry skin. Browse Walgreens.com for a wide selection of Eucerin products designed to help you soothe and heal many common skin problems. Eucerin makes skin lotions, shower oils and moisturizing creams for all types of skin.
Anti-itch lotions or gels for skin
Itchy skin can be uncomfortable and even downright annoying. Experiment with different anti-itch lotions or gels until you find one that works well for you. Different skin types require a different approach, so make sure to carefully review product information before making your selection. After you find one that you like, replace your regular bath or shower gel with one of the soothing gels and shower oils that Eucerin offers and see if that helps fix the problem. Anti-itch lotions and gels offered by brands such as Eucerin can help relieve the redness associated with itchy skin and also reduce flakes.
Moisturizers for dry skin
Eucerin has several moisturizers available that help combat dry skin. Most of the products from Eucerin are unscented, but Walgreens.com does have many different scented lotions available from other brands. Some moisturizers are specifically created for the face and neck. Others are designed for dry skin found on the legs, arms and hands. Keep a tube of lotion in your handbag or backpack at all times to fight dry skin all day long, even when you are away from home. Alternately, you can look for a hand cream that promises to last for an extended period of time, even if you wash your hands frequently.