Price and inventory may vary from online to in store.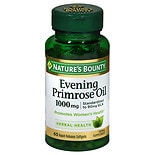 Nature's Bounty Standardized GLA 9% Evening Primrose Oil 1000 mg/ 90 mg Herbal Supplement Rapid R (60 ea)
$
13
99
$13 and 99 cents
  $0.23

/ ea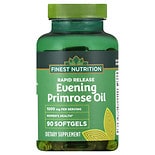 Finest Nutrition Evening Primrose Oil 1000 mg (90 ea)
$
11
99
$11 and 99 cents
  $0.13

/ ea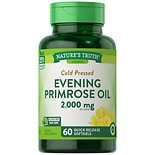 Nature's Truth Cold Pressed Evening Primrose Oil 1000mg (60 ea)
$
9
59
$9 and 59 cents
  $0.16

/ ea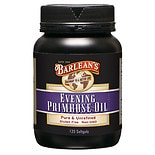 Barlean's Organic Oils Evening Primrose Oil, 1300mg Capsules (120 ea)
$
28
99
$28 and 99 cents
  $0.24

/ ea
Evening Primrose
Evening primrose (Oenothera biennis) is a wildflower native to North America. The oil that comes from this plant is rich in fatty acids (used to make fats that your body needs) and vitamin E. One such fatty acid is called gamma-linoleic acid or GLA. The GLA in evening primrose oil may have anti-inflammatory activity, the ability to reduce inflammation. As a result, research has looked at whether it eases inflammation in people who have inflammatory diseases like rheumatoid arthritis. Some studies have shown benefits while others have not. Preliminary research suggests it improves symptoms of the inflammatory skin disease eczema. Other research shows evening primrose oil helps to ease breast pain some women experience around the time of their period. It may also reduce non-cyclical breast pain. Breast pain in women has been linked with low levels of certain fatty acids. More research is needed in this area because the results are inconclusive. Evening primrose oil may improve bone health when taken along with calcium and fish oil. In addition, some preliminary research suggests it may relieve the symptoms of dry eye. This is a condition where not enough tears are produced or the tears produced are of low quality.
What You Should Know about Evening Primrose Oil
Most people experience few side effects when they take evening primrose oil oral supplements. Some people experience mild stomach upset, diarrhea or headache. There are other precautions you should know about. The GLA in evening primrose oil may interfere with blood clotting. You shouldn't take it if you have a history of a bleeding disorder or are taking blood thinning medications. Stop taking it several weeks before undergoing any kind of surgery since it can interfere with blood clotting. If you have a seizure disorder or a history of schizophrenia, talk to your doctor before using it. There are concerns that evening primrose oil may increase the risk for seizures in certain people. It can also interact with certain medications. It also may not be safe if you're pregnant or breastfeeding. Talk to your doctor before taking evening primrose oil to make sure it's a good choice for you.
This summary is intended for general informational purposes only, and should not be interpreted as specific medical advice. The U.S. Food and Drug Administration does not strictly regulate herbs and supplements. There is no guarantee of purity, strength, or safety of the products. As a result, effects may vary. You should read product labels. In addition, if you are taking medications, herbs, or other supplements you should consult with a qualified healthcare provider before taking a supplement as supplements may interact with other medications, herbs, and nutritional products. If you have a medical condition, including if you are pregnant or nursing, you should speak to your physician before taking a supplement. Consult a healthcare provider if you experience side effects.